SNMP vs. TR-069 Protocol Comparison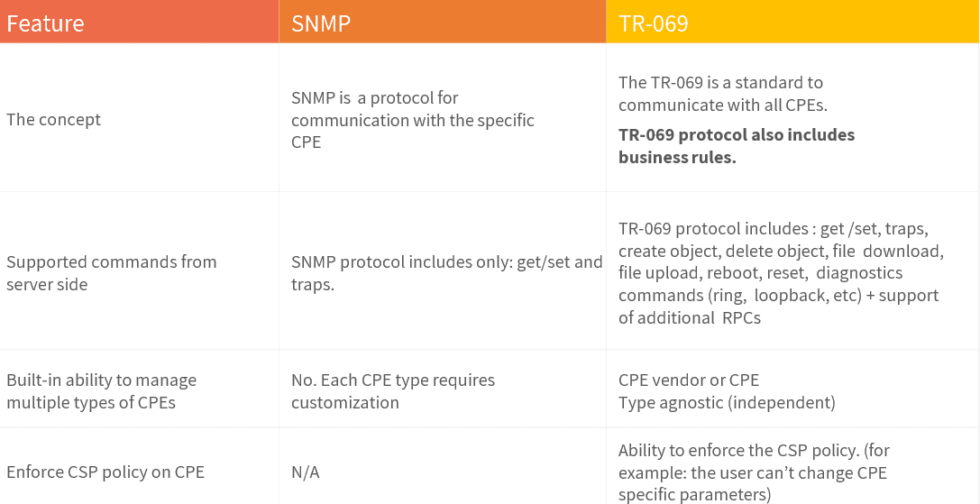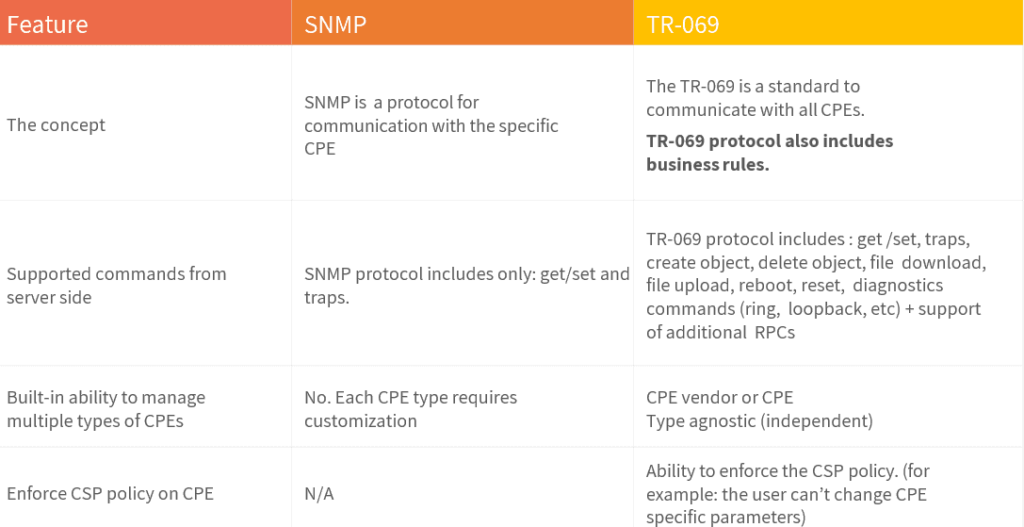 SNMP Protocol
Simple Network Management Protocol (SNMP) is an Internet Standard protocol for collecting and organizing information about managed devices on IP networks and for modifying that information to change device behavior. Devices that typically support SNMP include cable modems, routers, switches, servers, workstations, printers, and more.
SNMP is widely used in network management for network monitoring. SNMP is a component of the Internet Protocol Suite as defined by the Internet Engineering Task Force (IETF). It consists of a set of standards for network management, including an application layer protocol, a database schema, and a set of data objects.
TR-069 Protocol
TR-069 (Technical Report 069) is a technical specification of the Broadband Forum that defines an application layer protocol for remote management of customer-premises equipment (CPE) connected to an IP network.
The CPE WAN Management Protocol (CWMP) defines support functions for auto-configuration, software or firmware image management, software module management, status and performance management, and diagnostics. As a bidirectional SOAP/HTTP-based protocol, CWMP provides the communication between a CPE and auto-configuration servers (ACS). It includes both a safe auto-configuration and the control of other CPE management functions within an integrated framework. The protocol addresses the growing number of different Internet access devices such as modems, routers, gateways, as well as end-user devices that connect to the Internet, such as set-top boxes, and VoIP-phones.
The TR-069 standard was developed for automatic configuration and management of these devices by Auto Configuration Servers (ACS). The technical specifications are managed and published by the Broadband Forum.
Other forums, such as the Home Gateway Initiative (HGI), Digital Video Broadcasting (DVB) and WiMAX Forum endorsed CWMP as the protocol for remote management of home network devices and terminals (such as the DVB IPTV set-top box). There is a growing trend to add TR-069 management functionality to home networking devices behind the gateway, as well as many other access devices.
© 2022 Friendly Technologies. All rights reserved.