Leading the revolution, Friendly One-IoT™ is a comprehensive device management platform that redefines seamless connection, deployment, and management of any IoT device across multiple verticals.
Friendly's One-IoT™ Device Management provides robust administration for multiple types of IoT devices – both those with a complex data model and constrained devices – via industry-leading open-standard protocols, such as LwM2M, MQTT, MQTT-SN, AMQP, CoAP, TR-369 USP, and proprietary protocols.
One-IoT™ Device Management Features
Device Provisioning & Configuration
Remote Diagnostics & Repair
Data Collection & Orchestration
The Friendly IoT solution is built to future-proof your IoT infrastructure with its robust IoT device management features, making successful deployment, monitoring, and management a breeze in any vertical. Enjoy unrivaled device provisioning, remote diagnostics, repair, data collection, and firmware upgrades.
Friendly One-IoT™ Modules
Friendly One-IoT™ is equipped with an array of powerful modules to supercharge your IoT deployment. This includes the Friendly multi-protocol engine, Provisioning server, Bootstrap Server, FOTA Server, Admin portal, Technician portal, Container management, and Monitoring & Analytics, connected via a unified API.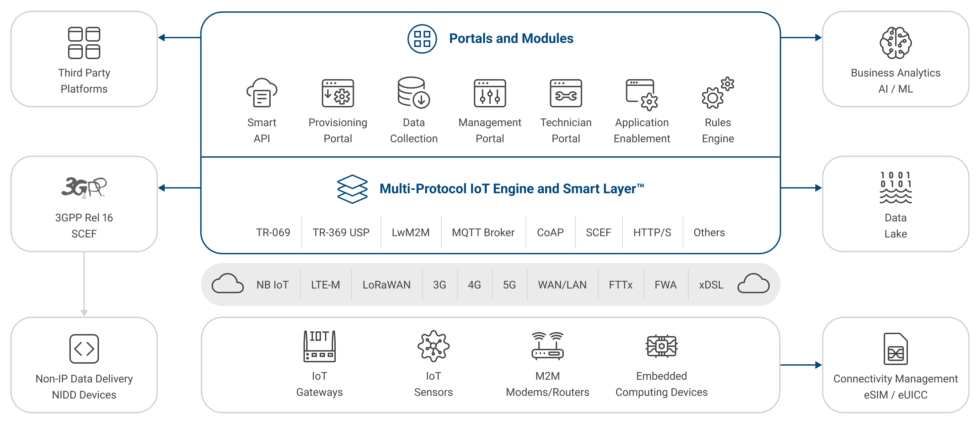 Our diverse IoT device management portals for administration, technicians, and pre-provisioning, along with robust monitoring capabilities, ensure seamless and efficient device management.
Manage Devices Across Multiple IoT Verticals
Our One-IoT™ platform has been engineered to cater to various verticals seamlessly. Be it Energy, Utilities, Agriculture, Smart Home, Smart City, Healthcare, Manufacturing, or Asset Tracking, our IoT device management solution empowers every sector.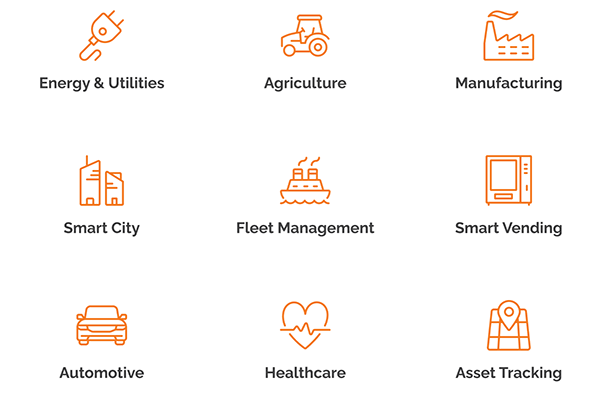 IoT Device Management for Any Protocol
Stay ahead of your IoT challenges with Friendly's comprehensive device management solutions that accommodate various protocols including:
LwM2M
MQTT
MQTT-SN
AMQP
CoAP
TR-369 USP
and more.
Superior Integration and Security
At Friendly IoT, we offer various integration capabilities with unified APIs, Swagger RESTful interfaces, cloud connectors, and more, ensuring your data's safety. We adhere to ISO 27001 standards, embedding comprehensive security features in our IoT platform for ultimate reliability.
The Friendly One-IoT™ Advantage
Experience unique benefits such as streamlined IoT service rollout, a carrier-grade solution, integration with app generators, central device registry, and more. Our commitment to continual protocol support and compliance adherence make Friendly One-IoT the ultimate choice for device management.
Friendly One-IoT™ vs. Other IoT Device Management Solutions
Discover the Friendly advantage that sets our device management platform apart from the rest.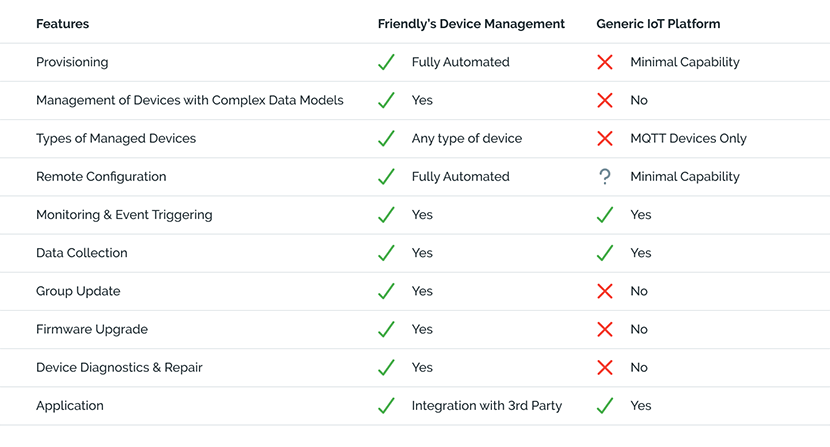 Ready to Redefine Your IoT Device Management?
Download our brochure or request a demo today to understand how Friendly One-IoT can transform your IoT deployment experience.
© 2022 Friendly Technologies. All rights reserved.