Friendly's One-IoT™ Device Management provides robust administration for multiple types of IoT devices – both those with a complex data model and constrained devices – via industry-leading open-standard protocols, such as LwM2M, MQTT, MQTT-SN, AMQP, CoAP, TR-369 USP, and proprietary protocols.
IoT Device Management Features
The Friendly IoT solution incorporates future-ready modules and functionalities for a successful deployment, monitoring, and management of IoT devices for any vertical.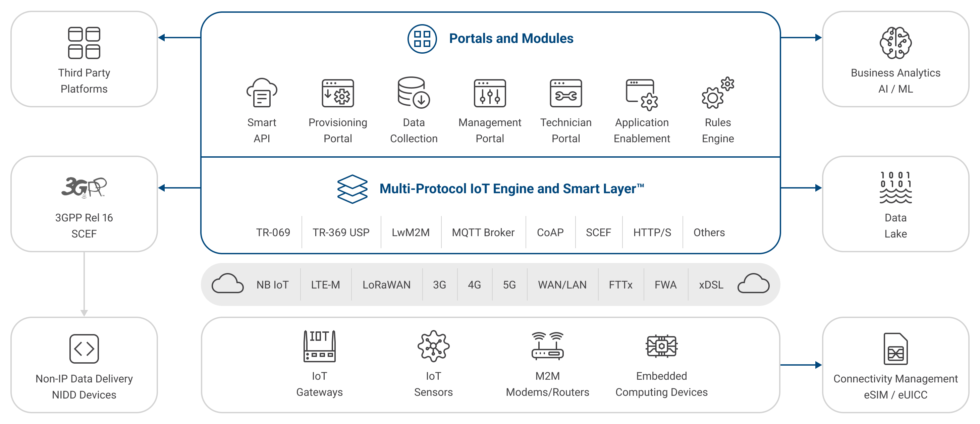 IoT Device Provisioning
Effortlessly add new devices.
Automated onboarding
Auto-device discovery
Unified data models
Dynamic Procedures
IoT Management
Future-ready device management for the Internet of Things.
Unified Device Management
Sensors & gateways
Multiple Protocols
Remote configuration
Group management
FOTA
Firmware-over-the-air made easy.
Firmware versioning
Firmware control
Custom configuration
Profiles and key files
Monitoring for IoT Devices
Experience a master-level view.
Monitoring parameters
Data orchestration
Scheduled tasks
Conditional & rate limit ingestions
IoT Device Event Management
Ensure you don't miss a thing with the following event-related features:
Event triggering
External API
SNMP traps
Conditional actions
Conditional configs
Tools for IoT
Equipped with the tools to make your IoT device management experience painless.
Diagnostics tools
Networking tools
Trace and debugging tools
Detect & repair
Auto-fix
Integration
Friendly IoT has multiple integration capabilities and options.
Unified APIs
Swagger RESTful
Subscription patterns and callbacks
Auth & Secure
Cloud connectors
IoT hub bridge
PKI Systems
AAA – LDAP & AD
Security for IoT
IoT data is in safe hands with these Friendly features:
Edge Device – DTLS/TLS/OSCORE
Interfaces & APIs – JWT, OAUTH, SAML
Platform security measures
Data encryption
Data sovereignty
ISO 27001
IoT Device Management Portals
Administration
Technician
Pre-provisioning
Monitoring
Unlimited multi-tenancy
The Friendly One-IoT™ device management platform is available via private cloud, public cloud, or installed on the customer's premises. Additionally, Friendly Technologies offers an App Generator module that enables the quick and easy generation – and update – of any custom applications without additional programming.
The Building Blocks of an IoT Platform
Device Management is an essential component of any IoT platform.
Generic IoT platforms available on the market typically enable the monitoring of IoT sensors and devices, data collection, and application functions.
Large-scale IoT deployments require a more advanced set of features, like the ones offered with Friendly's IoT device management, including:
Provisioning and authentication
Configuration and control
Monitoring and diagnostics
Software updates and maintenance
Connectivity management
Advanced analytic capabilities
Security
Friendly Technologies is the leading provider of fully-featured device management solutions, integrated with various third-party providers.
Friendly One-IoT™ Device Management vs. other IoT solutions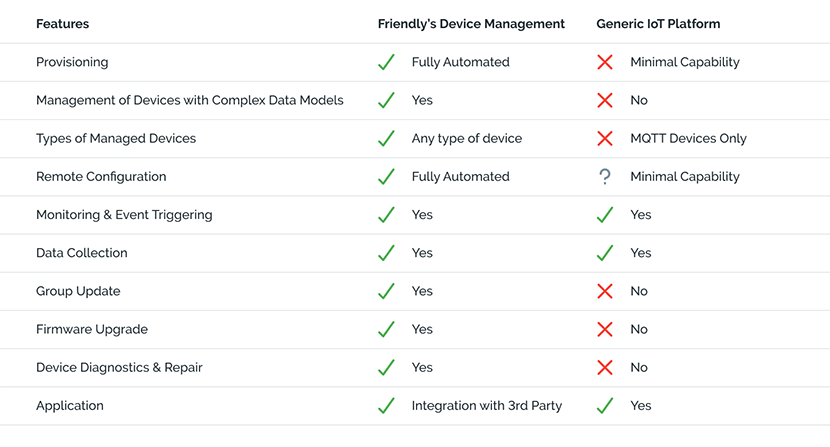 One-IoT™ Device Management Server
The Friendly One-IoT™ Device Management server is a Java-based solution that enables the management of millions of IoT devices via standard and proprietary protocols, such as LwM2M, MQTT, TR-369 USP, OMA-DM, CoAP, HTTP, SMNP, and others.
In addition to the management server, the solution includes modules for the Administrator, Call Center, and Network Manager for QoS Monitoring – as well as an extensive API for easy development of vertical applications per customer's needs.
Friendly's One-IoT™ Device Management server enables the management of the entire lifecycle of IoT devices for any vertical – Energy, Utilities, Agriculture, Smart Home, Smart City, Smart Vending, Healthcare, Security, Manufacturing, Fleet Management, Automotive, Asset Tracking, and more.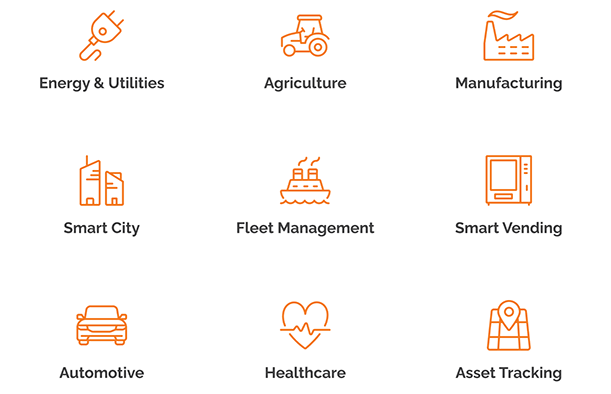 Friendly One-IoT™ Main Features
Automated provisioning
Sensor and gateway management
Manage multiple protocols on one platform: LwM2M, MQTT, TR-369 USP, OMA-DM, CoAP, and others
Device diagnostics and repair
Remote device configuration
Group management
Firmware updates
Monitoring and data collection
Event triggering
Unified API
Admin & Technician portals
IoT Data Management and Analytics
Friendly One-IoT enables data collection and data streaming from any IoT-connected device. Data can be stored locally within the customer premise data warehouse or streamed to the cloud. Streaming connectors, like Kafka, MQTT, Pub/Sub, and RESTful are supported by Friendly's IoT device management platform.
The Friendly One-IoT engine collects and stores data for analytics, including:
Any device parameter
Sensor/gateway status on/off
Battery status
Telemetry data/sensor data
Location
Firmware/software version
The system can trigger events based on policies and rules created by the admin.
Friendly One-IoT™ Deployment Scenarios
Friendly One-IoT™ supports NB-IoT, CAT-M1 & LoRaWAN as well as Fixed Networks. The solution is infrastructure-independent with flexible deployment options.
Customization and Integration
The IoT devices connect to the IoT Platform via standard or proprietary protocols. Friendly already supports most of the standards and is continually adding other widely accepted protocols as they emerge. We support additional protocols upon request.
The Unique Benefits of Friendly IoT Device Management
Streamlined IoT service rollout
Solve the puzzle of deployment and management of different types of devices (over various protocols)
Avoid the need for extensive professional services required to make a device manageable.
Carrier-grade solution – manage tens of millions of devices on one platform while efficiently using computing resources.
One platform – multiple protocols: LwM2M, MQTT, OMA-DM, CoAP, TR-369 USP, and others
Integration with app generators, SCEF server, data analytics solutions, IoT clouds
Management of the entire lifecycle of IoT devices
Management of both constrained devices and devices with complex data models
Central Device Registry – mix and manage data, devices, and external systems – all on a single, open-standard platform.
Cloud-independent solution with flexible deployment options
Ready to learn more? Download a brochure or request a demo below.
See also:
© 2022 Friendly Technologies. All rights reserved.