Smart Home Server for Service Providers
Friendly's Smart Home Server is a complete solution for service providers and can be integrated with any Smart Home gateway or sensor. It is offered as a cloud-based solution, while dedicated servers are available too. It helps service providers to manage smart home devices remotely and acts as a one-stop solution for all back-office operations.
Friendly Technologies' Smart Home Server is a complete solution for smart home service providers. It is equipped with tools to remotely diagnose and resolve problems. In addition, it helps collect valuable data and generates business insights. It can be easily integrated with third-party applications thanks to full API for other systems. Its API can be used to create customized mobile and web applications.
Friendly's Smart Home Server addresses the needs of the following markets:
Smart Home providers
Utility companies (such as electricity, water supply, and gas)
Healthcare
Manufacturing
Many other industry verticals
Friendly's Smart Home Server comes with the following components:
Setting up rules and automation
Big data analytics
Notifications and alarms
Northbound interface for DM
Video management
Power management
Call center admin portal for better customer service and problem resolution
User management to provide and revoke access
Security management and privacy protection features
The Smart Home Server consists of a mediation layer, and servers for event management, camera, video, and messaging. The solution has a mobile app, a dedicated call center portal, and a centralized admin portal. Friendly's Smart Home Server is device agnostic and helps service providers to deliver top-notch solutions regardless of the CPEs that their consumers use.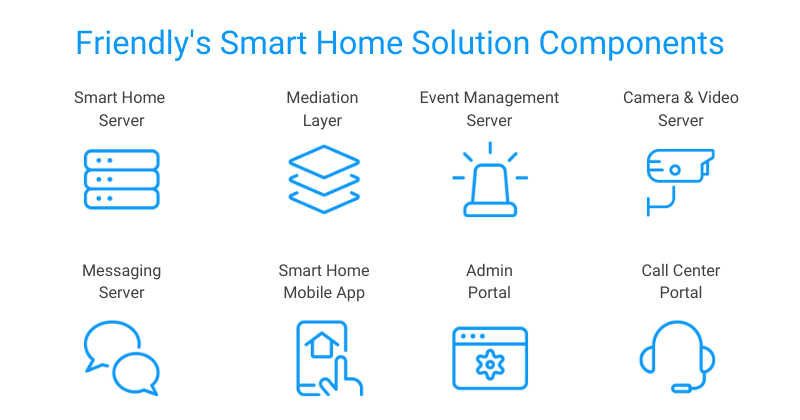 Friendly's Smart Home Server is an end-to-end solution for service providers to configure, manage, and resolve issues with smart home devices. It comes with both mobile and web applications for better management of devices and problem resolution.
As a device-agnostic solution, it equips service providers with flexibility, scalability, and ease of use.
In Friendly's Smart Home solution, there are many vital components that allow xSPs to offer a full range of services to their end-user.
Predictive Analytics
Friendly Technologies cooperates and integrates with many third-party vendors to offer a robust predictive analytics module. The solution includes:
Machine learning
Predictive engine
Rules engine
Event creation
GIS support.
Service providers can use the Predictive Analytics module to identify patterns, create events when there is a deviation from the pattern, identify lifestyle and personal behavior metrics, and conduct business surveys.
Smart Home Device Management
Easily configure, manage, and control customer devices, provide specific technical assistance to customers and diagnose and resolve problems remotely.
Additional benefits include:
Complete access to smart home gateway and related sensors
Application with an easy-to-use graphic interface that are both modular and configurable
Smart Home as a Service (SHaaS) with unrivaled customer support
Automatic problem resolution and advisory modules
Capability to create hierarchical support teams for expert and novice customer representatives
Hyper manager each component of every sensor remotely. View and edit information related to these components.
Control, configure, manage, and assist individual customers remotely
Benefits for Subscribers
Get customized technical support remotely, and receive feedback from service providers
Notify service providers when there is an issue
Complete protection of personal data and enhanced privacy and security measures
Service providers can use Friendly Smart Home Server on PC, tablets, and mobile devices. It is available as SaaS and can be deployed on service providers' premises if they so choose.
© 2022 Friendly Technologies. All rights reserved.