The growth in connected devices and streaming services that rely on Wi-Fi connectivity in the home has resulted in the need for smarter Wi-Fi networks that provide extended coverage. The increase in connected devices changed the way that we use technology. The average person owns multiple mobiles devices, smartphones, laptops, tablets, smartwatches, and they want to be connected to the internet wherever they are. Good connectivity is essential for all connected devices, as well as for the smart TV when streaming a movie, the video game console used for online gaming, or the wireless speakers playing music on the outdoor deck.
Wi-Fi Management Features
Monitor
User premises Wi-Fi experience
Network Map
View all connected devices
Better Analytics
Including neighboring networks
APR
Automatic Problem Resolution
Full Support
For Dual-Band and Wi-Fi Mesh
Advanced Toolset for Wi-Fi Network Optimization
Friendly's Wi-Fi Management and Optimization toolset is a comprehensive and advanced set of tools. It enables the diagnostics, prevention, and resolution of Wi-Fi problems, plus support for standard Wi-Fi devices and QoE monitoring. Friendly's Wi-Fi optimization enables service providers to offer strong and reliable wireless connectivity for all connected devices in the end-user environment.
The Friendly toolset provides a more reliable, stable, and monitored Wi-Fi ecosystem, including:
Friendly Connect, a subscriber self-care mobile app
Friendly's TR-069/USP Call Center Portal with automated remote diagnostics and resolution of Wi-Fi related issues
FT Wi-Fi Mesh Management – works with Wi-Fi Mesh & EasyMesh networks to employ multiple access points to form a unified network providing smart, efficient Wi-Fi connections
NEW: Network Score
Get a quick and accurate picture with Friendly's Network Score feature. Understand five key performance indicators and take advantage of another way to optimize connectivity.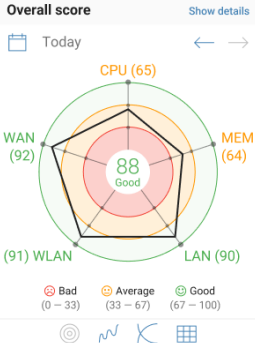 Friendly Network Score
The Friendly toolset for Wi-Fi Optimization enables service providers to:
Quickly identify and resolve Wi-Fi related problems
Dramatically reduce call handling times at support centers
Reduce the number of calls to the call center by means of self-help features
Improve the quality of services. including triple-play services
Increase customer satisfaction and reduce churn
This comprehensive Wi-Fi optimization toolset solves a very acute problem that most CSPs face – "the internet is not working!" The prevalence of complaints to Call Centers that are connected to Wi-Fi-related issues is significant. Friendly's toolset enables the easy and automatic prevention, detection, and resolution of Wi-Fi-related problems.
Friendly Connect App
What does this self-support app provide the CSP's end-user?
One app that provides a full network visibility
Wi-Fi signal quality
Wi-Fi resolution
Self-provisioning of Wi-Fi settings
Speed test
Device tools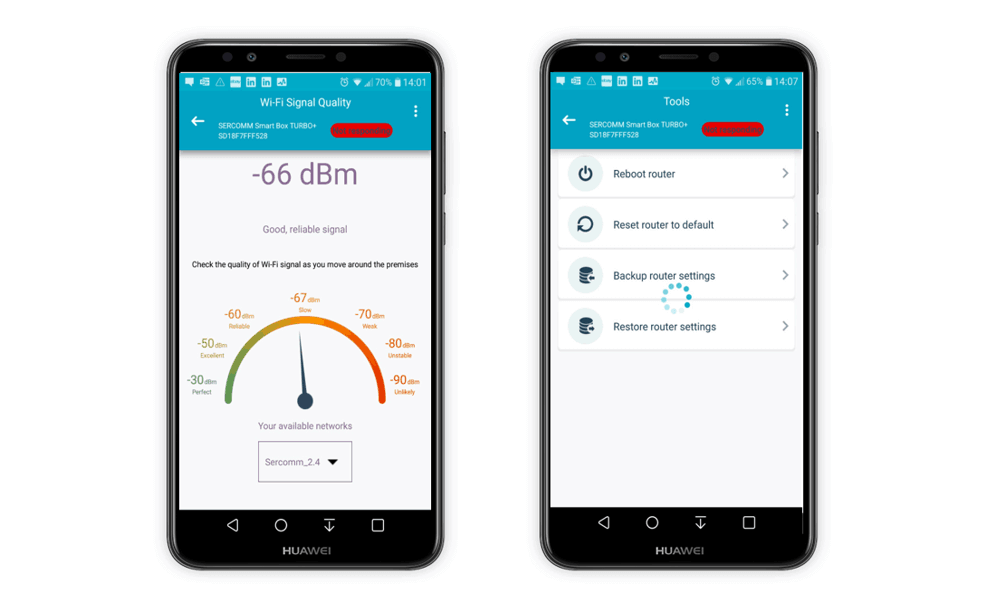 Wi-Fi Mesh
The Friendly solution incorporates automated self-installation and automated configuration of Wi-Fi mesh devices, a topological map of the devices installed at home, easy modifications to network name and password, problem diagnostics and repair, call center tools, and self-healing tools. Friendly's Wi-Fi mesh solution offers quality monitoring, diagnostics, and problem resolution.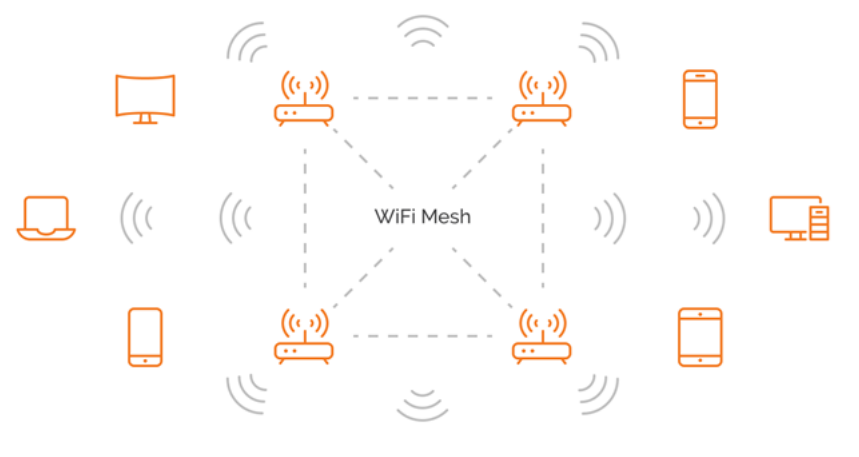 This joins Friendly's TR-069/USP device management line of products, including the most comprehensive solution for all Wi-Fi issues in the connected home.
Friendly's fully customizable Wi-Fi mesh solution comes with an app for setup guidance and control.
Case study: Finding the Best Wi-Fi Channel
Let's take this very common support issue and look at how Friendly's Wi-Fi optimization features can help.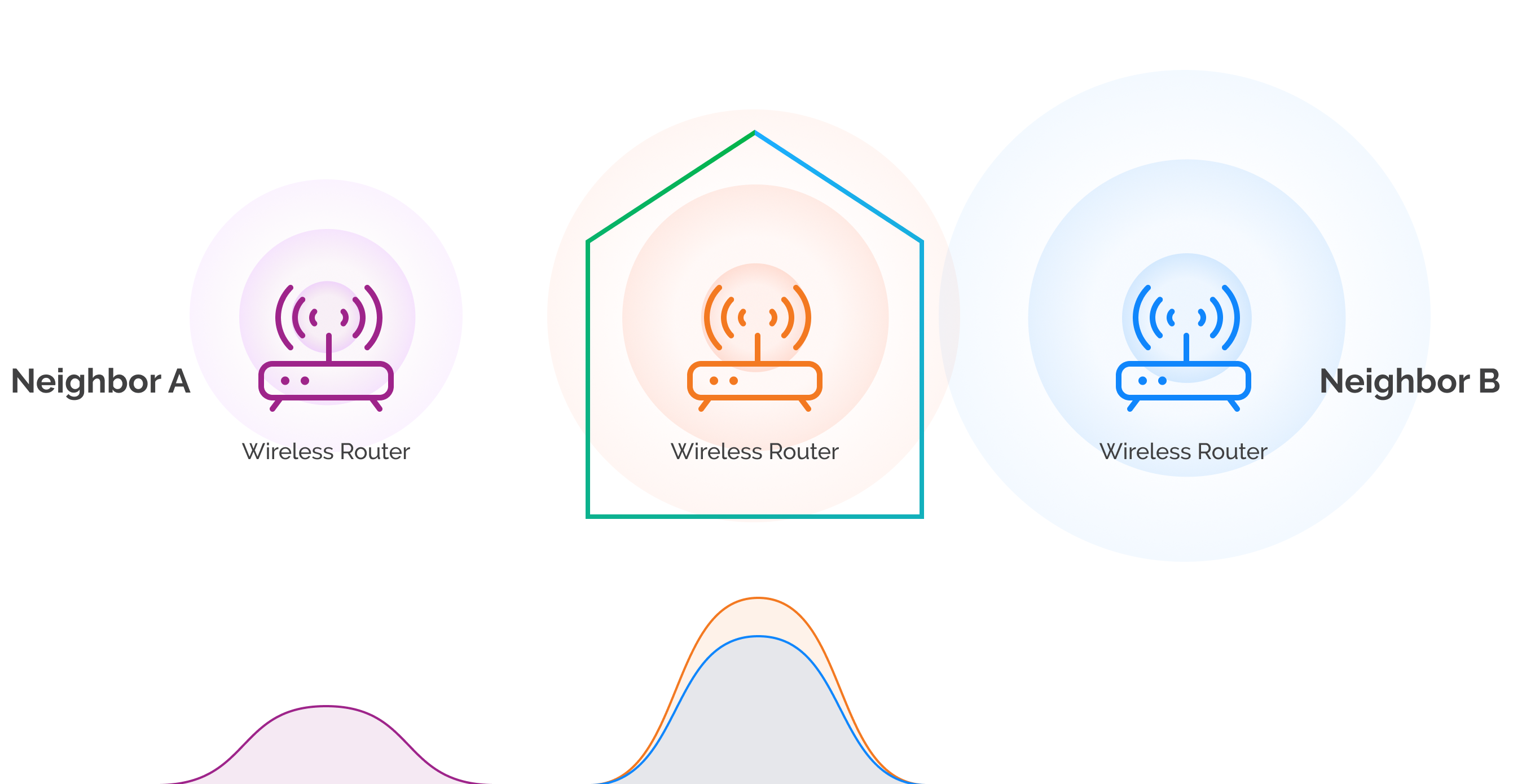 We have a Wi-Fi connection with two neighboring routers, A & B. One of the neighboring routers, B, is transmitting the Wi-Fi signal on the same band as our home router. This is considered as an overlapping Wi-Fi channel and will interfere with the home Wi-Fi signal reception for our connected devices, which will, in turn, cause slower upload/download speeds and service degradation.
How can we fix this neighboring interference? Well, we can always ask the neighbor to switch to a different channel, but that's not very realistic. We can also manually or automatically scan our neighboring Wi-Fi channels and select the one that has no interference.
Finding the best Wi-Fi Channel for your router would include:
1. Choosing a Wi-Fi frequency band
2. Checking a neighboring access point
3. Selecting a non-overlapping Wi-Fi channel
With Friendly Technologies' platform, both customer support and the end-user can easily handle and resolve these Wi-Fi interference issues. The end-user can perform this operation independently using the Friendly Connect self-support application.
Choosing Friendly Technologies Wi-Fi Management
In today's world, where everyone relies heavily on the internet for streaming services, gaming, and connecting multiple devices, it's essential to have a strong Wi-Fi network with extended coverage. Friendly Technologies' device management platform for TR-069/TR-369 USP is a comprehensive solution that includes the capability for service providers to offer reliable wireless connectivity for all connected devices in the end-user environment.
This advanced set of tools enables diagnostics, prevention, and resolution of Wi-Fi-related issues, including support for standard Wi-Fi devices and quality of experience (QoE) monitoring. With Friendly device management, service providers can now easily configure and monitor their Wi-Fi networks, dramatically reducing call handling times at support centers, and improving the quality of services, including triple-play services. To learn more about our Wi-Fi Management and Optimization toolset, download our brochure or request a demo today!
© 2022 Friendly Technologies. All rights reserved.