Reducing Costs of Complex IoT Projects with Friendly's Smart Layer™ Technology
Friendly Technologies has been specializing in Device Management since 2007. Our expertise in the field started with us providing TR-069 device management solutions to carriers and service providers since 2007. When IoT and the Smart Home first emerged, Friendly leveraged its experience and extended its offering to the IoT and Smart Home markets. Today, Friendly provides a unified IoT device management (One-Io™) of LwM2M, MQTT, CoAP, and TR-369 USP devices – and a full solution for the Smart Home.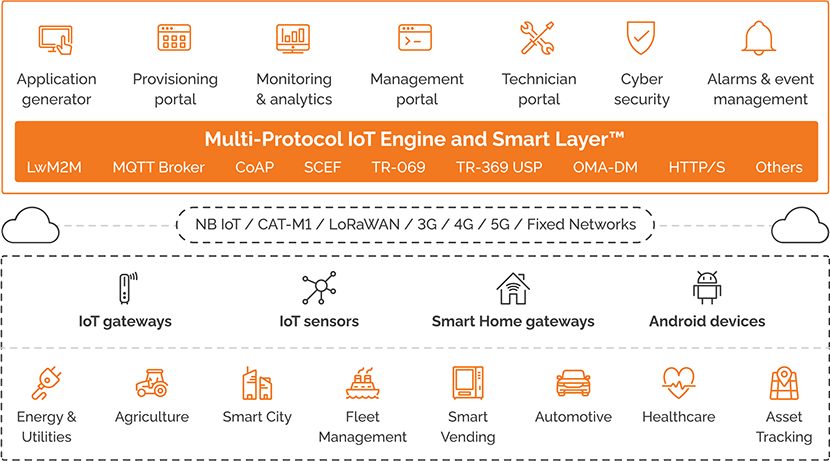 Large-scale IoT deployments require the use of multiple types of devices – IoT gateways, sensors, meters, and other connected things. Different types of devices are designed to work over different protocols or networks and connect to different management platforms. One of the main challenges that carriers or IoT service providers are facing today is making multiples types of devices IoT-ready, connected to one IoT platform, and operating seamlessly together, with the least manual work possible. This manual work that IoT service providers often inevitably are forced to do to make their services operational can quickly turn into a time-consuming process requiring massive financial investment.
Friendly Technologies defines itself as a product company. We aim for maximum automation and ease of use with the minimum required professional services. We are committed to simplifying the provisioning and management of IoT devices, and freeing IoT service providers from hardware lock-ins.
The Friendly's unique Smart Layer™ technology eliminates the need for costly development and integration efforts when adding new device types. There is no need for an in-depth study of new device management protocols, extensive manual work, and complicated customization. This technological expertise dramatically reduces project deployment times enabling IoT Service Providers to start offering services faster, gaining a competitive edge, and capturing market share. Also, the Smart Layer™ technology significantly reduces operational costs and increases ARPU.
This unique technology is a foundation of all of Friendly's solutions – TR-069 Device Management, IoT Device Management, and Smart Home Platform. Do not hesitate to contact us to learn more about the technology or see how it works in a live demo.
© 2022 Friendly Technologies. All rights reserved.