The Connected Home and
Service Deployment Challenges
The connected home market is poised to grow exponentially in the coming years. As a result, network service providers have a crucial role to play. However, they can expect several challenges along the way.
Service providers will have to consider smart home as an essential service alongside home internet, OTT TV, gaming, and Wi-Fi & mesh devices. This opens doors to many technical and security-related challenges that service providers will have to address on a priority basis. Standardized and open-source solutions are necessary to deliver seamless connectivity across devices and platforms. A holistic solution is to choose a standardized and secure network protocol – such as Friendly Technologies' UDMP –  for ensuring smooth deployment.
The Connected Home Market is Booming
According to a report released by ResearchAndMarkets.com, the connected home market is projected to be valued at $221.5 billion by 2025, with a growing market share in North America, closely followed by Europe and the Asia Pacific. In a very short time, according to data released by Juniper Research, the number of connected devices has increased to 38.5 billion in 2020, from 13.4 billion in 2015. This figure is expected to further increase in the next five years. These trends clearly indicate a global preference for connected home environments, often delivered via Smart Home as a Service model.
Remote jobs and work from home scenarios are likely to fuel additional smart home deployment. In addition, ultra-HD video, cloud gaming, and telemedicine are set to increase the number of connected home deployments. A diverse range of customer premise equipment (CPE) coupled with interruptions to broadband connectivity causes problems for service providers. They often find it challenging to maintain uninterrupted connectivity at a reasonable speed while ensuring data security. In this context, a secure, efficient, and reliable network is paramount to managing these disparate devices.
Service Deployment is Not a Cakewalk
Industry reports suggest that households with more than 50 connected objects will soon become commonplace. It is increasingly clear that the telco-connected home is an integral component of the broadband network. Curiously, broadband network service providers are not entirely ready for these changes, although one might expect them to be.
A few years ago, service providers only had to worry about providing network connectivity for connected devices, e.g., laptops and smart devices, such as cellphones and tablets. Within a short period, thanks to the advent of IoT and sensor-based devices, customers have begun to use a variety of devices that connect to the internet, right from electric lamps to water taps and security cameras, wearables IoT devices, and the like. These smart devices often connect with their own mobile applications and relay corresponding data to their central servers to further information processing.
Service providers need to ensure these multiple connected devices receive enough bandwidth to function smoothly and reliably. They also need to ensure that these devices remain safe and secure from various kinds of threats such as hacking, impersonation, data thefts, and malware attacks. As a result, network deployment is not linear and straightforward like it once used to be.
With connected devices taking the center stage, consumers expect their service providers to provide a holistic user experience. However, service providers' inability to ensure seamless and secure device connectivity continues to lead to high churn rates. Customer churn most often occurs when broadband service providers are not able to deliver exceptional performance and security.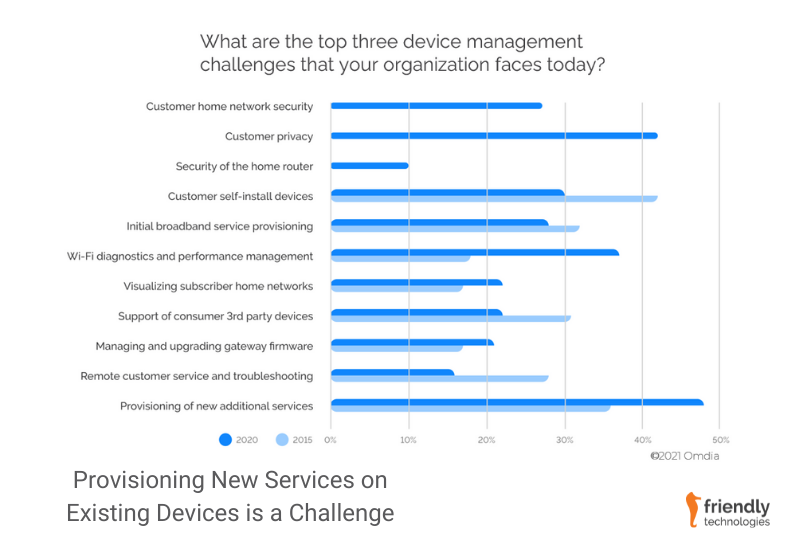 Challenges Encountered by Service Providers
As technology evolves rapidly, more advanced products are available for consumption in the market. As a result, there is a real risk of malicious products alongside genuine ones with particular vulnerabilities. Service providers must factor in these potential risks before providing connectivity to their customers.
In addition, multiple connected devices consume more network bandwidth. Service providers will have to be prepared for surges in demand, necessitating an infrastructural overhaul. An essential solution is to utilize standardized and open source protocols such as Friendly Technologies' TR-069 management console.
The future of service deployment centers around multi-service devices. Service providers will need to factor in cybersecurity, IoT and smart home devices, parental control, customer user experience, Wi-Fi and home security, and others to make deployments successful. The most enduring challenges that service providers face are:
Provisioning of new and additional services
Safeguarding customer privacy and preventing attacks
Wi-Fi diagnostics and performance management
Helping Customers Achieve Successful Deployment
With more than 2 million broadband users, an ISP customer of ours enjoys a relatively large market. Its customers primarily use its services to access home internet, Wi-Fi & mesh devices, gaming, and OTT TV. Increasingly, many of these customers use network services to run their connected devices. While some of the company's customers expressed apprehensions about security threats, others complained about speed.
The increasing number of smart devices used by its customers also posed other problems. The ISP's field agents were often unfamiliar with newer connected devices, while the tech support could not answer customers' specific queries. This led to customer complaints and a poor perception of the company's support.
However, the ISP's principal challenge was bringing fast connections on a secure network to end users without compromising technical protocols. The company implemented Friendly Technology's TR-069 module management as part of the deployment. The solution helped the ISP comply with security and privacy regulations, while its customers were pleased to run their smart devices effortlessly.
Consequently, the number of calls to tech support reduced, and the ISP's CSAT (customer satisfaction score) increased dramatically. In addition, field agents found it easier to provide access to multiple devices at client locations thanks to open standards and uniform methodologies.
A Standardized and Lightweight Solution that Simply Works
TR-069 uses the CPE WAN Management Protocol (CWMP), a proven system that supports auto-configuration and performance management. TR-069 technical specification is specifically designed to remotely manage customer-premises equipment (CPE) while connected to an Internet Protocol (IP).
The execution environment consists of four containers: Cyber, IoT, Easy Mesh, and Smart Home. The D-Bus is based on the TR181 data model. The gateway configuration management system consists of CWMP TR-069, SAMBA, WEB UI, IP Diagnostics, and DSL (any WAN).
Friendly's TR-069 and TR-369/USP device management are standardized solutions with a proven track record of delivering successful deployments.
Open standards are crucial to ensure the success of service deployment.
They help overcome technical barriers and assist service providers to quickly deploy reliable network connections to manage devices remotely.
They also help avoid fragmentation and maintain data standards to sustain customer satisfaction.
They reduce the pressure on customer support teams, who can focus on more critical tasks in hand, such as building customer relationships.
They minimize the burden experienced by field agents and tech support teams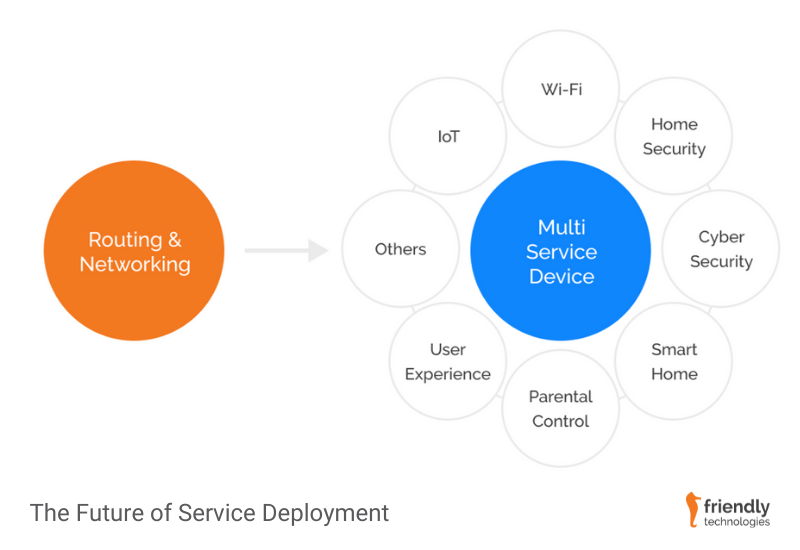 TR-369/USP Device Management Enables the Future of the Connected Home
As the global adoption rate of smart connected devices is expected to increase exponentially in the coming months and years, broadband service providers will bear the burden of ensuring seamless and secure connectivity. This burden can be reduced dramatically with the help of an effective open-source and standardized device management protocol.
The most challenging task that service providers face today is provisioning new services onto existing devices. This is closely followed by customer privacy and Wi-Fi diagnostics and performance management. Friendly's device software module management tackles these challenges with applications dedicated to security, smart home, and parental controls.
Service deployment is a complex affair, which requires great foresight and planning. It can only take place when technical challenges are addressed right from the outset. Network providers have enormous responsibilities, from choosing the right device management protocol to deploying network infrastructure securely.
Read the full report on the Future of the Telco-Connected Home.
Contact us today to learn how TR-369/USP module management can help you deliver exceptional connectivity to your customers.
© 2022 Friendly Technologies. All rights reserved.