Friendly's ACS server (automatic configuration server) is a thoroughbred engine for the remote management of CPEs, such as modems, routers, IPTV, STBs, ATA, VoIP, storage devices, media centers, IP-phones, cameras, etc. In concert with the Friendly Unified Device Management Platform, we offer a single interface to manage ACS and automate the deployment and support of data, voice, and video services, reducing operational and support costs while increasing customer satisfaction. Its user-friendly UI covers the entire service lifecycle, from centralized remote provisioning of services to inventory management, group updates and campaign management, monitoring, event triggering, and support automation.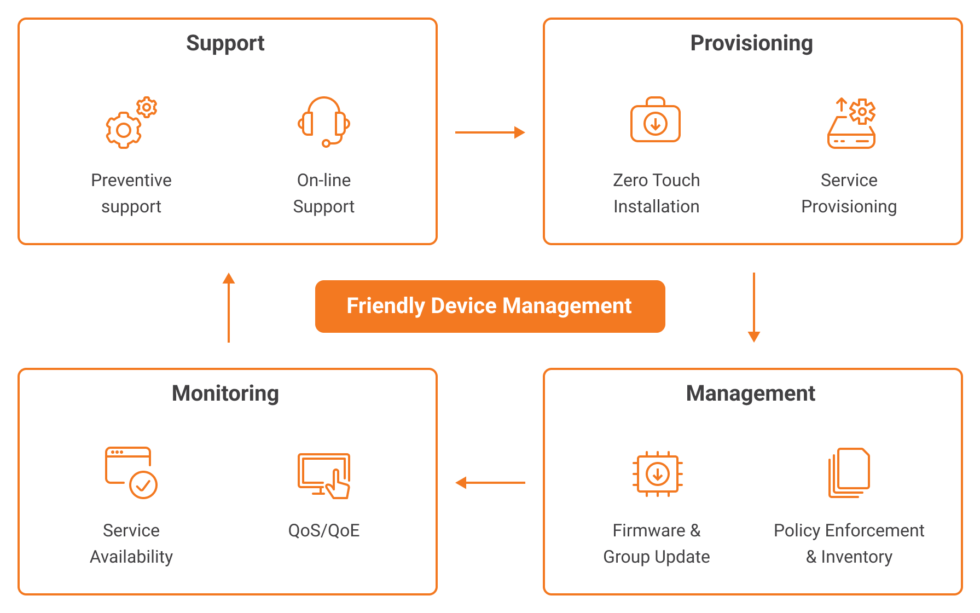 Shortening Time-To-Market for New Devices
Adding new devices is a daunting task for service providers. Thanks to its unique Smart Layer technology, Friendly eliminates the need for costly development and integration efforts when adding new device types. This feature dramatically reduces the Total Cost of Ownership (TCO) by eliminating the need to study in-depth device management protocol, develop complicated scripts, and integrate into OSS and other systems. All the various devices are centrally managed through the Management Portal.
Management of Additional Devices
In addition to the subscriber's gateway, the Management Portal can manage multiple devices from a single user, such as VoIP devices, IP-Phones, STBs, media centers, storage devices, cameras, and any other TR-111 supported devices, even when they are located behind NAT.
Remote Update of a Specific Device
The Management Portal enables diagnostics and configuration of a specific CPE. The system can manage the entire data model of the CPEs, reboot the device or reset to factory default, upload or download configuration files for backup and restore purposes, and resolve subscribers' problems with ease and efficiency.
Group CPE Update
The Management Portal enables the remote configuration of a group of devices (mass update). The update may include parameter values, configuration, or firmware files, and can be sent to:
CPEs of a specific CPE model type
Customer-defined groups of CPEs
The update can be performed immediately, or scheduled for a certain time and date. The customer can also control the frequency and quantity of updates to reduce the ACS server load.
Software/Firmware Image Management
The system enables downloading of CPE software/firmware image files. The protocol provides mechanisms for version identification, file download initiation (ACS-initiated downloads), and notification of the ACS of the success or failure of a file download. The update of firmware can be sent to a single CPE or a group of CPEs. For security purposes, the file can be digitally signed. This signed package format ensures the integrity of downloaded files and prevents third parties from remotely configuring the device.
CPE Policy Management
The Management Portal enables policy management and enforcement. The following policies can be defined and enforced:
Communication time intervals: the time interval during which the CPE must notify the ACS and search for updates (Inform Time Interval)
Polling: the parameter values that the CPE must inform periodically (polling), such as QoS parameters, bytes sent/received, etc.
User Updates: whether the CPE should inform the ACS immediately or during the next scheduled Inform if the user changed a value (such as SIP server name).
Blocking: blocking the user from changing specific parameter values.
During the first-time provisioning process, the CPE automatically discovers the ACS, registers, and receives a default setting profile with the required policy. The CPE management policy can be updated remotely via the Mass Update process.
Support of All TR-069 Protocols
Friendly Technologies is a contributing member of the Broadband Forum's Broadband User Services group and takes an active part in the TR-069 standardization work. The Friendly TR-069 Device Management Platform supports the following Broadband Forum Technical Reports. The additional protocols support is added as the protocols are updated by the Broadband Forum.
TR-69 – CPE WAN Management Protocol
TR-098 – Internet Gateway Device Data Model for TR-69
TR-104 – DSLHome™ Provisioning Parameters for VoIP CPE
TR-106 – Data Model Template for TR-069-Enabled Devices
TR-110 Issue 1.01 – DSLHome™ Reference Models for VoIP Configurations in the DSL Home
TR-111 – Applying TR-069 to Remote Management of Home Networking Devices
TR-131 – NBI requirements
TR-135 – Data Model for a TR-069 Enabled STB
TR-140 – TR-069 Data Model for Storage Service Enabled Devices
TR-142 – Framework for TR-069 enabled PON devices
TR-143 – Enabling Network Throughput Performance Tests and Statistical Monitoring
TR-156 – Using GPON Access in the context of TR-101
TR-157 – Component Objects for CWMP
TR-181i2 – Device Data Model for TR-69
WT-181 – Device Data Model for TR-69
TR-196 – Femto Access Point Service Data Model
TR-369 – User Services Platform (also known as USP)
Comprehensive reports
The management console offers a seamless generation of comprehensive reports on all the activities. All reports can be generated from the ACS database via the management console or via integration with external platforms such as "Business Object".
Features
Management of single and multiple CPEs per user
CPE and customer profile management
Users management
Mass Update / CPE Group Update
Software/Firmware Image Management
CPE Policy Management
CPE-based events triggering
Support of devices connected to the router (TR-111)
Full support of the TR-69 specs
Complete API/NBI to external applications
Benefits
Enables provisioning and delivery of value-added services
Supports all routers, STBs, ATAs, cameras, IP phones with no additional development
Improved subscriber's QoE
Reduced cost of provisioning of new subscribers and new services
Reduced support costs
Ready to learn more? Download a brochure or request a demo below.
© 2022 Friendly Technologies. All rights reserved.