The world is changing at the speed of light, but so is the technology that your customers use. As a result, ensuring QoE for end-users of connected devices is a battle that every service provider seeks to conquer. Friendly Technologies' device management solutions change the game by helping you manage fiber-enabled devices on the network side with efficiency. No matter how quickly devices and their features evolve, our solutions have your back as long as TR-069 / USP protocols bolster them.
Friendly's Device Management for FTTH
Manage all fiber devices from a single mobile app efficiently
Complete solution for device management with managed Wi-Fi
Enhance the customer QoE metric
Manage any TR-069 / USP -based technology an ISP might use
Synchronize IoT device management ecosystem seamlessly
Eliminate multiple subsystems and the confusions that eventually arise
Friendly Technologies' FTTH unified device management platform is the perfect solution for remote device management of optical network terminals (ONTs). You can bid goodbye to your worries of security, speed, and sustenance of service quality.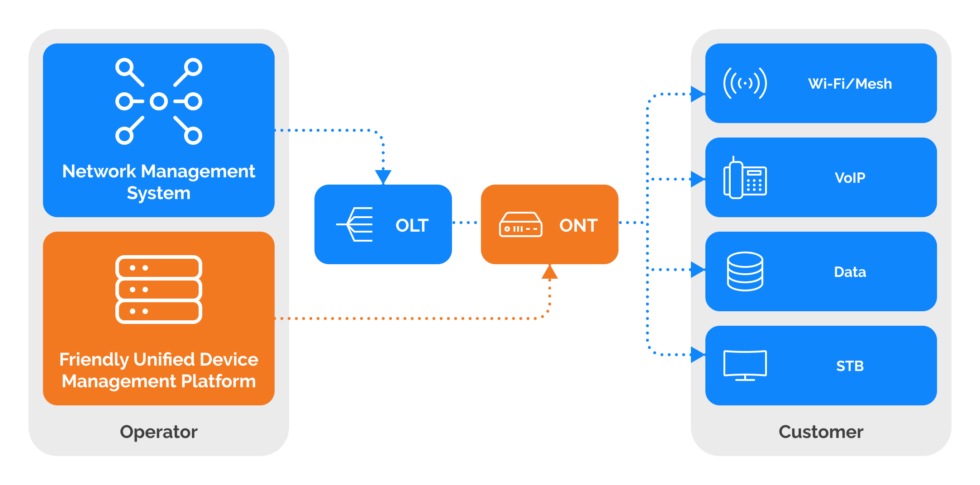 Adding New Devices is Quick and Easy
One of the most challenging jobs for service providers is to add new devices. Our specialized deliverables make it remarkably easy to deploy new devices and eliminate the need for expensive integrations and complicated scripts. Everything you need to add and manage new devices already exists in the Management Portal! Here are some additional features that help you stay ahead of your competitors:
Remote management of CPEs and edge devices
Single interface to automate deployment, manage the CPE, and provide support for video, voice, and data services
Add and manage new devices and services quickly and inexpensively
Reduce operational costs and improve customer support
Provide both preventive and online support to users.
Update firmware and enforce policies
Future-Ready Device Management
With zero-touch installations and service provisioning, Friendly Technologies' TR-069 & TR-369/USP solution for fiber devices is just what every ISP needs in a rapidly evolving market. From routers and IPTV/STBs to cameras and media centers, our fiber-centric solutions provide device management support to practically all products that support any of the TR-069/369 (USP) protocols.
In short, Friendly Technologies' solutions are geared towards helping ISPs bring top-notch network and connectivity experience to end-users while enhancing their productivity and profitability.
Don't play catch-up with emerging technologies and feature-heavy products. Let our specialized device management solutions do the work for you.
© 2022 Friendly Technologies. All rights reserved.